Glass Shower Doors Raleigh, NC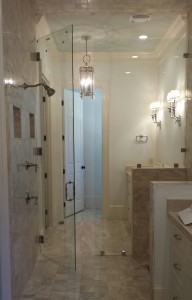 As the focal point of your glass shower, your shower door is an important piece of your bathroom. Not only does your shower door provide functionality as the entrance to your shower, but it can also add a unique element of design to your space.
Proglass provides customers throughout Raleigh and surrounding areas with customizable glass shower doors that can transform the look of any bathroom. When you work with us to choose your shower door, you can rest assured that you will end up with a finished product that is custom tailored for you.
Our experienced professionals will work closely with you to identify your unique needs, and create a custom shower door that will meet them. Customize your shower door with option, such as.
Shower Door Customization Options
Framing
Whether you envision a frameless shower door that will add a modern, sleek element of design to your bathroom, or want to blend design with affordability using a semi-frameless shower door style, Proglass can meet your needs. We will help you explore our frameless glass shower doors, semi-frameless shower doors and more.
Door Movement Plane
Determine which way you prefer your shower door to open. If your bathroom offers limited space, sliding shower doors may be the best option. However, if space isn't an issue, you may prefer a swinging glass shower door. With Proglass, the choice is yours.
Hardware
The finishing touches are sometimes the most important. From shower door handles, to grab bars, towel bars and hinges, we offer a variety of shower door hardware options in a number of finishes, including:
Brushed Nickel
Satin
Chrome
Oiled Bronze
Brushed Gold
Decorative Pattern Glass
If plain clear glass isn't exactly what you envisioned, Proglass has a wide selection of beautiful decorative glass options for a striking element of design that will have visitors green with envy. Take a look at our decorative glass gallery to browse our selection. We also provide protective glass coatings to keep your glass clean, streak-free and without water stains.
Contact Proglass today to learn more about our shower doors.
The above is just a small selection of customizable options at Proglass. Learn more about our shower door options, or get started today by calling 919.269.9597 or by filling out our contact form here. We serve customers in Raleigh, Cary, Apex, Wake Forest and all surrounding NC areas!